Mobile, tablet, and desktop client
plus sync for Taskwarrior
Progressive Web App available in the browser and launchable as an app in IOS and Android. App store installation is not required.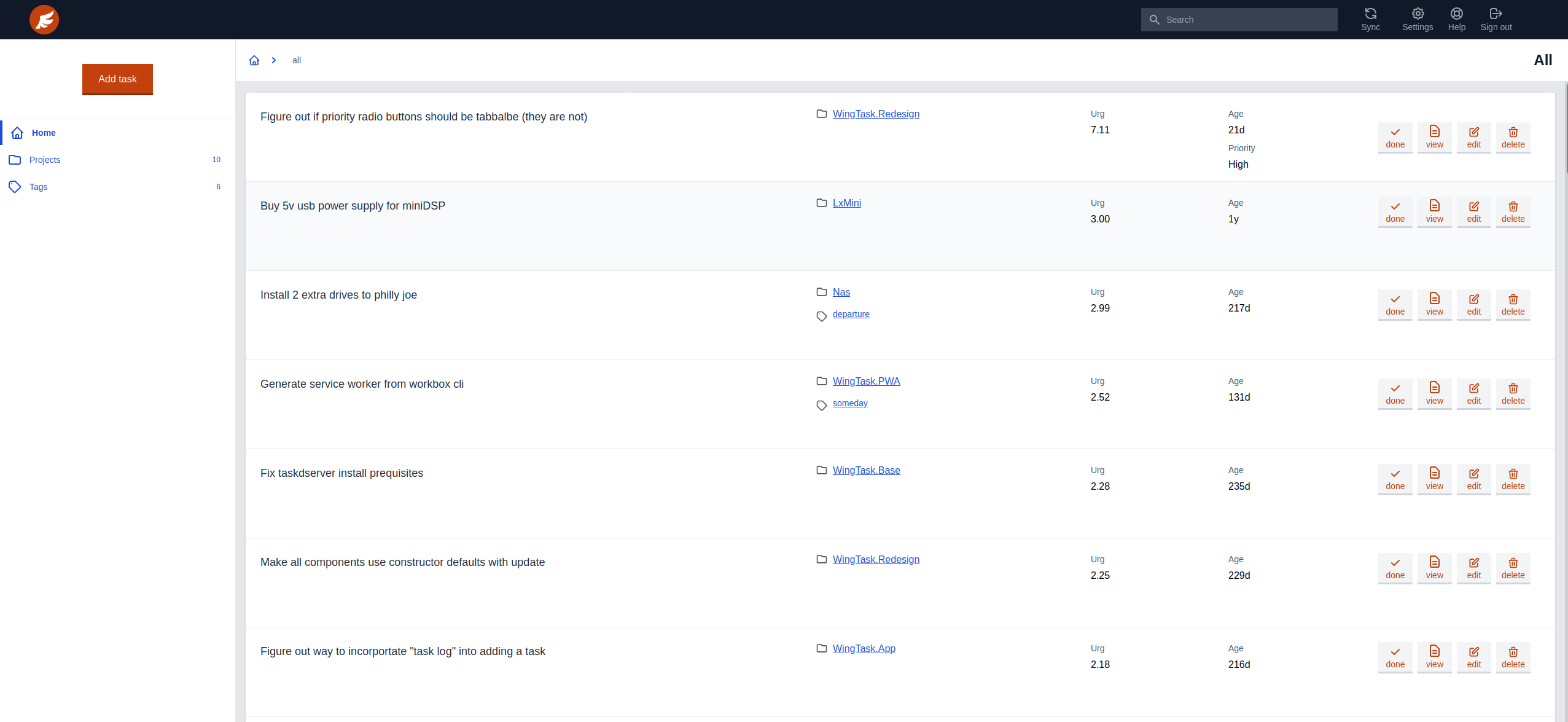 Designed first for mobile
You're gonna want to be able to see your tasks when you are on the go. Shopping lists are a fine use of WingTask on your mobile device.
Likewise you could be standing at the supermarket and realize all of sudden that you need to lance a boil and you want to record it immediately so it won't get lost in your busy life.
Again another fine use of WingTask on your mobile device.
Mobile notifications

There aren't any. Who needs that garbage.

Reminder emails

There are no such things as reminder emails clogging up your inbox, instead you can pull up WingTask home page on your mobile device and see what's due right now in quick and efficient whenever you so desire, but never when you don't.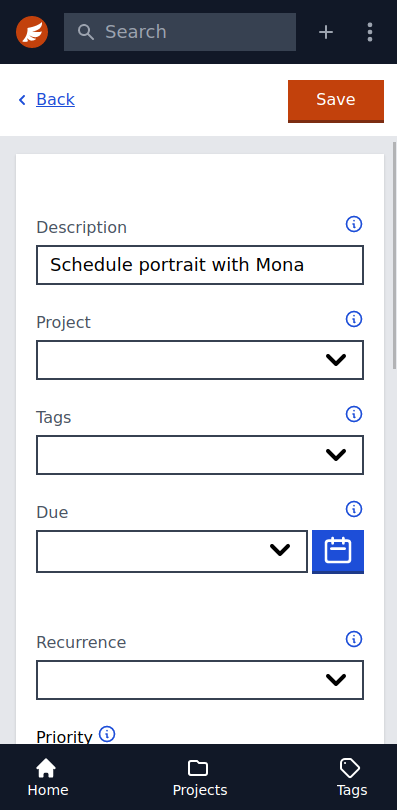 WingTask is available right now for
$0 a month
If you sign up now it'll be free forever, in the event the price changes you'll stay grandfathered in at free.
If it's free, then the user is the product?

No, data won't be shared with 3rd parties for any reason.

How is this sustainable?

Right now it's sustainable because I have the will to make it happen, and the strategy is for the long term. I'm convinced I can build a great application and sustain a modest lifestyle from it, you can help me by just giving WingTask a chance by just trying it. I may charge for it in the future for new users but I won't change terms on existing users.

What's the future plans for pricing and WingTask?

There are lots of options besides subscriptions and I'm looking into it. The important thing to know is that I value anyone taking a chance on an unknown developer so should pricing changes come in the future, I won't change terms on already existing users.

How much money do you need?

That's the beauty of being a lone developer, I'm not beholden to investors for hyper growith and delivering 50x on billion dollar valuations. I'm certainly not trying to take a rocket ship to space which is a bit of twat move if you ask me. I have a lot of ideas that would give WingTask users a powerful tool and it would be a dream come true to build those in a self-sufficient manner.